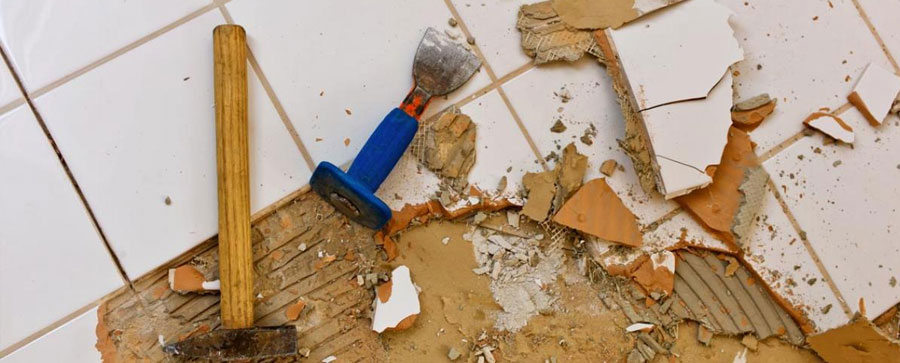 Dust-Free Shower Tile Removal in Fort Worth & Aledo
One of the most challenging tasks in bathroom remodeling is removing the shower tiles. It's a painstaking process that usually involves an unbelievable amount of superfine dust. Thankfully, for our customers in Fort Worth, Arlington, Forest Hill, and other cities in the DFW area, Dust Commander has come up with a system of quickly and efficiently removing shower tiles dust-free.
The traditional method of removing shower tiles requires the use of sufficient protective gear such as goggles, long sleeves and pants, facemasks, and hearing protection. Using the traditional way, you'll have to use a grout remover as well as a tile breaker. You'll have to use a grinder to remove the adhesive. Extra care is also needed so as not to cut the pipes and other installations behind the walls.
However, thanks to Dust Commander and our proven processes, shower tile removal has become easier, faster, and safer. Using our proprietary tile removal system, we can get rid of the dust immediately while removing the tiles. You don't have to worry about the lingering dust. We'll have your bathroom ready for remodeling in no time at all.
Industries We Serve with Dust-Free Tile Removal in Red Oak & Lancaster
Don Preston, the founder of Dust Commander, has seen the problem with the old method of tile removal. There's simply too much dust. These superfine dust particles contain silica, which can be harmful to human respiratory health. The specks of dust can linger within a property for weeks or even months. Don Preston knew that he had to do something about it—and he did. Working furiously, he was finally able to come up with the Dust Commander system that effectively removes tiles with virtually zero dust. It took him more than 50 prototypes, but it's worth it.
We can now help homeowners, and business owners in the Dallas-Fort Worth area safely remove old tiles quickly, efficiently, and with minimum hassle. We serve the following institutions:
Remove Your Old Tiles the Dust-Free Way in Arlington & Dallas
Dust Commander is now ready to serve Red Oak, Lancaster, and University Park and other locations in the DFW area. We invite you to learn more about this amazing new system for removing old tiles dust-free. If you want to speak to one of our friendly representatives, please call 903-357-4640. Alternatively, you can send us a message using our Contact Us page.