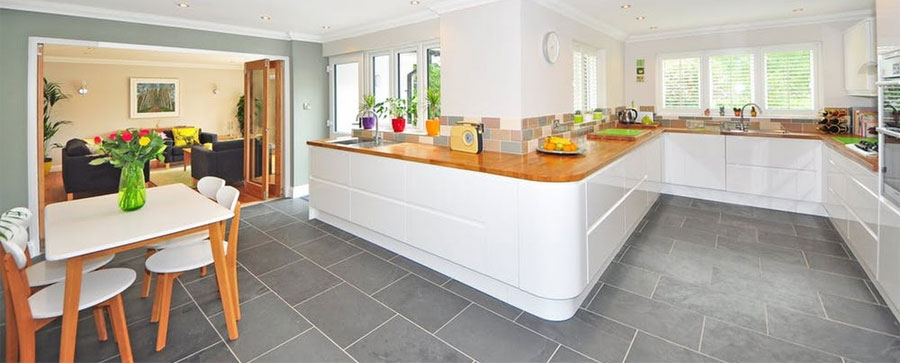 Dust-Free Kitchen Tile Removal in Grapevine & Dallas
People often consider tiles to be excellent flooring material, particularly for kitchens. Floor tiles are highly water-resistant, so you don't have to worry about spills or leaks damaging your floor. Tile floors can last for several years and they don't get scratched easily. These also come in a myriad of styles and designs, so you're surely able to find tiles that will match your aesthetic sensibilities. However, tiles can crack because of various reasons like poor installation or insufficient floor preparation. Tile grout can also get dirty and chip away over time.
When the time comes that you need to replace your kitchen tile floor, your best option, if you live in the Dallas-Fort Worth area, is none other than Dust Commander. Our services are available in Aubrey, Grapevine, and the different regions in the DFW area.
We also remove all kinds of kitchen flooring material such as linoleum, laminate, tile, hardwood, and others. We have perfected a system of removing kitchen floors dust-free. First, we will analyze your kitchen carefully so we can plan precisely how to go about the removal. Next, we will apply our proven floor removal methods using state-of-the-art and proprietary equipment. Finally, we will clear your kitchen of debris and make sure that your subfloor is ready for a new installation.
Companies We Serve in Fort Worth, Frisco, & Highland Park
Dust Commander's founder, Don Preston, has been in the flooring business since 1994, and he has seen firsthand how disruptive and difficult the traditional tile removal process can be. There's just too much dust left behind after the tile removal. The superfine dust that lingers for weeks or even months can be harmful to the lungs and may cause serious respiratory health problems. Don set to work and field-tested more than 50 different designs to come up with the fantastic Dust Commander process that removes floor tiles virtually dust-free.
Today, we offer our services to residential customers as well as business owners, including:
Discover Dust Commander's Dust-Free Tile Removal System in DFW
Dust Commander offers dust-free kitchen tile removal services in Highland Park, Gordonville, Forreston, and other cities in the Dallas-Fort Worth area. Aside from our dust-free tile removal services, we also offer tile removal products, including tile rakes, dust grabber adapters, and jackhammer trolleys. For more information about our products or services or to request a free, no-obligation estimate, please call 903-357-4640 or visit our Contact Us page.