Dust-Free Tile Removal Services in Paris, TX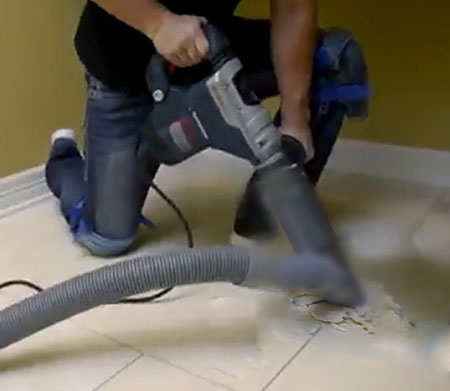 Since 1994, Dust Commander's owner Don Preston has been researching and innovating the way tile flooring is removed. The traditional way of tile flooring removal involves hard labor, a dirty mess, and it's extremely tedious. Not to mention, it is unhealthy for inhabitants of the residential home or commercial establishment.
The original tile removal method is not suitable for a number of reasons but the biggest problem is that it gets thinset dust everywhere. Contractors are forced to spend hours just taping off rooms and open areas with plastic wrap and the dust can still travel beyond the enclosed areas if not extremely careful. Not to mention, this time-consuming method could last for many days and is unhealthy, especially for anyone suffering from asthma or allergies. This process could also lead to hidden costs due to damaged slab or having to clean the areas and contents that dust escaped to.
The Dust Commander System
Dust Commander's Don Preston has been studying the way tile is removed, in hopes of designing an innovative way to remove tile without the pesky dust involved, and he did just that with the Dust Commander system. After testing several different devices on the market and finding that they all had the same poor outcome, he decided to build his own device, the Dust Commander System.
Tile removal is no longer such a troublesome act with Dust Commander's dust-free tile removal process. Our new method of removing tile is completely safe and healthy and is a much faster method that can complete up to 1,000 square feet of tile removal each day - making it perfect for commercial jobs. Dust Commander is sure to remove your tile in a way that leaves your concrete slab ready for new flooring installation and is virtually dust free!
Contact Dust Commander for Fast and Easy Tile Removal in Paris, TX
Our Dust Commander system will catch and trap the dust before it goes airborne. So once we're done removing the tile, your floors will be completely ready for whatever project is next. There's no hidden costs involved or extra time spent cleaning up the mess. This method is highly effective and it's hands down the best method for dustless tile removal in Paris, TX and surrounding areas. If you need tile removal in your Paris home or building, contact us at 903-357-4640, we can answer any questions you have and set you up to receive a free on-site estimate.
---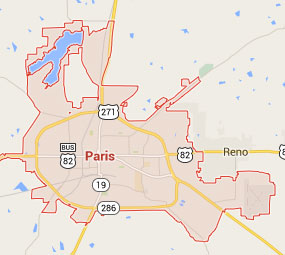 Learn About Paris, TX
Paris, TX is located in Northeast Texas just 98 miles from the thriving Dallas-Fort Worth Metroplex, also known as DFW. The Lamar County seat has a population of over 25,000 residents and is frequently considered "the second largest Paris in the World" by residents.
Following the Paris tradition, a 65-foot Eiffel Tower replica was built in 1993. Eventually, the city placed a large red cowboy hat atop the Paris, TX Eiffel Tower replica to distinguish the model after a similar replica was constructed in Paris, Tennessee. The original 65-foot wood replica was eventually destroyed by a tornado and later rebuilt.