Dust-Free Tile Removal in Bedford, TX
The traditional method for removing tile floors is a very dirty, laborious, and unhealthy attempt for residential and commercial buildings, and the people occupying them. In fact, most contractors will spend hours just taping off rooms with plastic wrap in an effort to "minimize" the spread of dust from thinset removal. However, thinset dust is so fine that even with great effort, the dust still manages to get everywhere, covering your walls, counters, furniture and just about every surface.
The Dust Commander System
Dust Commander's owner, Don Preston has been in the flooring business since 1994 and has consistently seen problems with the traditional tile removal process. The biggest problem revolving around the dust that is left behind in customers' homes after removing tile floors. The dust sticks around for weeks, even months after tile removal and is unhealthy, especially for anyone with asthma/allergies and children. Another common problem he has found is flooring customers deciding to live with old, outdated tile because they don't want to suffer from the dusty mess left by the tile removal process.
Preston has spent countless hours researching ways to make the tile removal process virtually dust free. He considered and tried several devices on the market, but they all had the same issue of continuously getting clogged. Also, most of the devices required hands and knees operation which is physically strenuous for anyone operating them.
Because of these issues, Don Preston has built and field-tested over fifty different designs, making slight changes and additions along the way. He now believes he has perfected a virtually dust free tile removal system, the DUST COMMANDER®.
Benefits of Tile Removal with Dust Commander System
Our Dust Commander system offers many benefits over your typical tile removal process. Some benefits of Dust Commander include:
Virtually dust free tile removal services
Quick and Efficient
Safe and healthy
Leaves concrete slab flat and ready for new flooring installation
No hidden costs!
We offer a wide array of products for flooring contractors looking to enhance their business. If you are looking for a specific product, don't hesitate to contact us at 903-357-4640 for help.
Contact Dust Commander for Dustless Tile Removal Services in Bedford, TX
Dust Commander® provides an alternative method of dust-free tile removal to the traditional tile flooring removal process. Our products are cleaner, highly effective, and leave your place looking, smelling and breathing brand new! Don't wait around to find another alternative to avoiding the spread of harmful dust when removing tile in your home or business, contact us today at 903-357-4640 to learn more about our dust-free tile removal equipment.
Customer Reviews from Bedford
Tyler W. from Bedford, TX
Reviewed on Review Central
Apr 5th, 2016
"Jose and Quinton were very professional and did an outstanding job. I would use you all again in the future."
Brandon F. from Bedford, TX
Reviewed on Review Central
Aug 21st, 2015
Very satisfied with the work done.
Testimonials from Bedford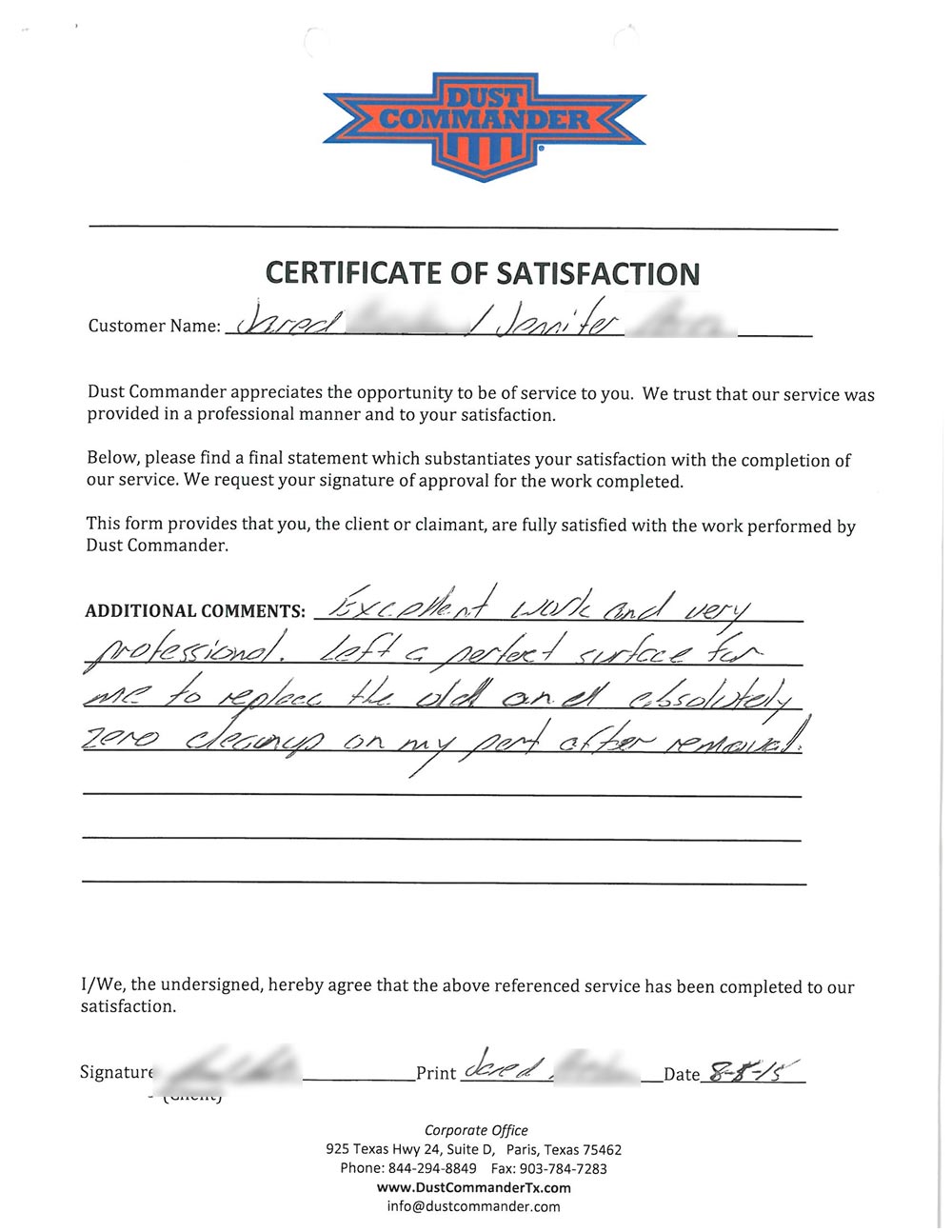 Bedford, TX Tile Removal Testimonial by Brandon
Over 400 square feet of tile was removed from Brandon's Bedford, TX home with the Dust Commander system. He was very satisfied with the work done saying the "guys did a great job and left the place clean and dust free" as promised.
Dust Commander Testimonial from Jaime S. in Bedford, TX
Jaime S. said he would highly recommend our service to anyone after we completed a project at his residential home in Bedford, TX. The project consisted of our contractors removing 400 square feet of ceramic tile with the Dust Commander system.