Thinset: What is it & Why is it Difficult to Remove?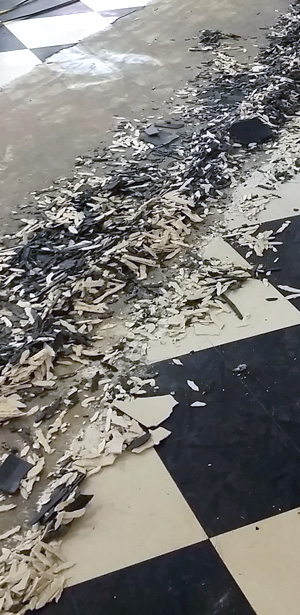 Whenever you are replacing your tile floors, you will need an adhesive to keep your new tiles in place. One type of adhesive that melds well with your tile pieces is thinset or thinset mortar. Thinset is a blend of cement, very finely graded sand, and water retention compounds. This mixture allows the cement to properly hydrate, which then makes the thinset more durable and flexible. These qualities allow the thinset to support a lot of weight, turning the mixture into the perfect adhesive for your floor tiles.
Why is Thinset Difficult to Remove?
Thinset is only removed when you are replacing your tiles or when the thinset has been damaged. But because of its strong bond, thinset is not that easy to get rid of. Of course, you can purchase the correct tool to properly remove it but, without knowing the proper removal method, you risk spending more on your tile flooring project. The thinset removal tool is expensive enough, but if you remove the thinset incorrectly, you may need to buy all new floor tiles. Repairing broken tiles or the initial floors of your home will definitely put a dent in your wallet, and that is one expense that could've been easily avoided if you called the experts in the first place.
Always Let the Experts Work with Thinset
Applying thinset is just as complicated as removing it, for thinset is not pre-mixed. Mixing thinset might look simple in theory, but if you are inexperienced, you might get all the measurements wrong. Improper mixing can lessen the durability of the thinset, so slathering subpar thinset onto your tiles will only be a waste of time. Additionally, working with thinset can get messy. If you are not properly geared up from head-to-toe, the mixture can get all over your skin and clothes, as well as in the room you are working in.
If you need to finish a project that deals with thinset, please contact Dust Commander immediately. Our company is very familiar with thinset and the difficulty that comes with applying and removing it. With our expert crew members on the job, your tiles and initial flooring will be spared from any damage. What's more, we work within the given time limit – making our service fast and reliable. If you are interested in hiring us, give us a call at 903-357-4640. Our services are available to properties located in the surrounding areas of Paris, Texas.