Dust Free Tile Removal and Replacement in Frisco, TX
Removing old tile flooring the traditional way is a very dirty, laborious, and unhealthy attempt for residential and commercial buildings, and the people occupying them. Most contractors will spend hours just taping off rooms with plastic wrap in an effort to "minimize" the spread of dust from thinset removal. However, thinset dust is so fine that even with great effort, it will still get everywhere, covering your walls, and counters.
Don Preston has been in the flooring business since 1994. In those two decades, he has consistently seen problems with the traditional tile removal process. The biggest problem revolving around the dust and mess that is left behind in customers' homes. The dust sticks around for months after the removal and is unhealthy, especially for those with asthma/allergies and children. An additional problem he has found, is flooring customers deciding to live with old, outdated tile because they don't want to suffer through the months of mess left by the process.
Preston has spent countless hours researching ways to make the tile removal process virtually dust free. He considered and tried several devices on the market, but all had the same issue – they continuously got clogged. Also, most of the devices required hands and knees operation which is physically strenuous to the technicians operating them. So he decided to build his own device that would solve all these problems!
In the past two years, Don has built and field-tested over fifty different designs, making slight changes and additions along the way. He now believes he has perfected his virtually dust free tile removal system and is proud to introduce, and offer you, DUST COMMANDER ®.
Dust Commander® provides an alternative method of dust-free tile removal to the traditional tile flooring removal. It is much cleaner, highly effective, and leaves your place looking, smelling and breathing brand new! Don't wait around to find another alternative to avoiding the spread of harmful dust when removing tile in your home or business, contact us today at 903-357-4640 to learn more about our dust free tile removal equipment.
Customer Reviews from Frisco
Testimonials from Frisco, TX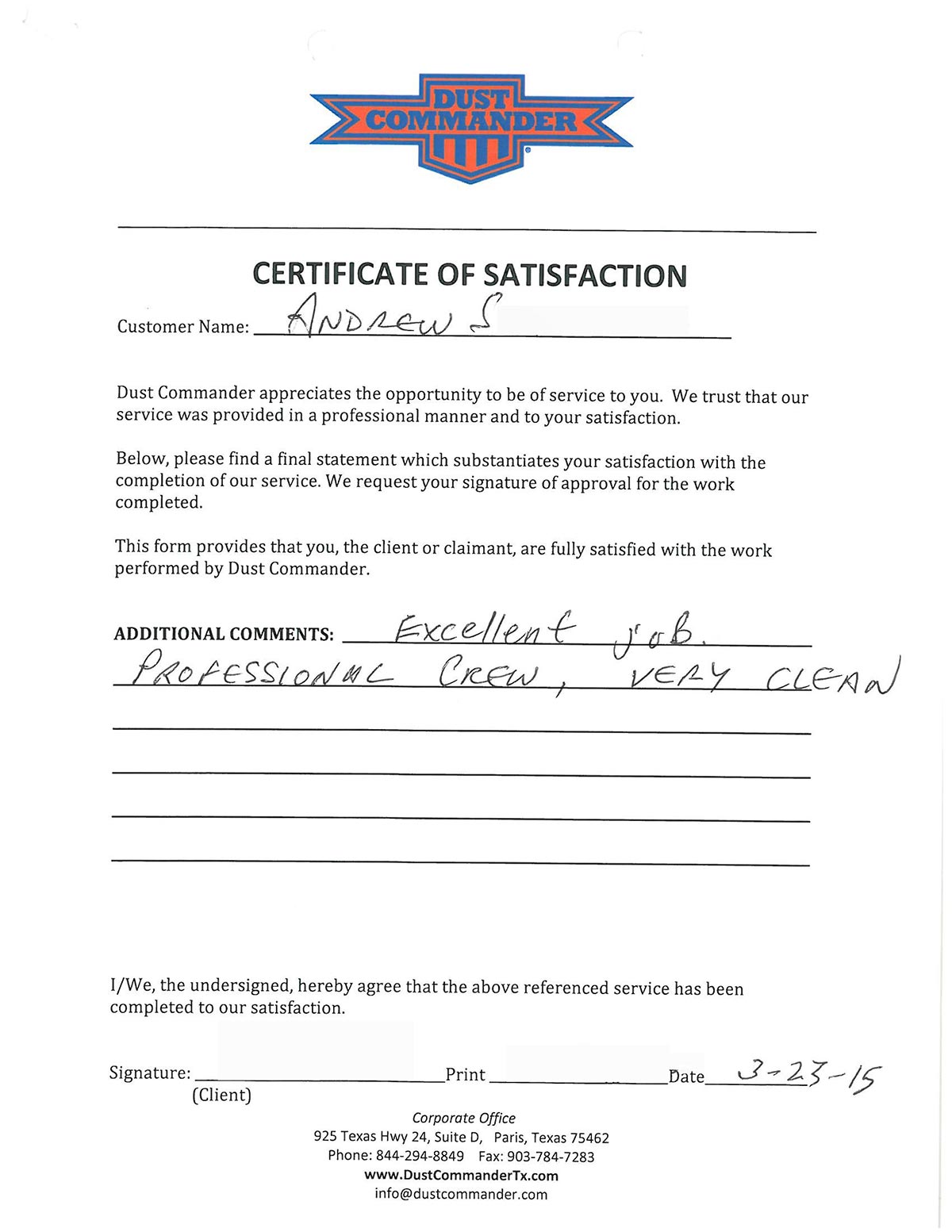 Testimonial from Andrew in Frisco, TX
A homeowner by the name of Dusty in Paris, TX reached out to us at Dust Commander about removing ceramic tile flooring in his home.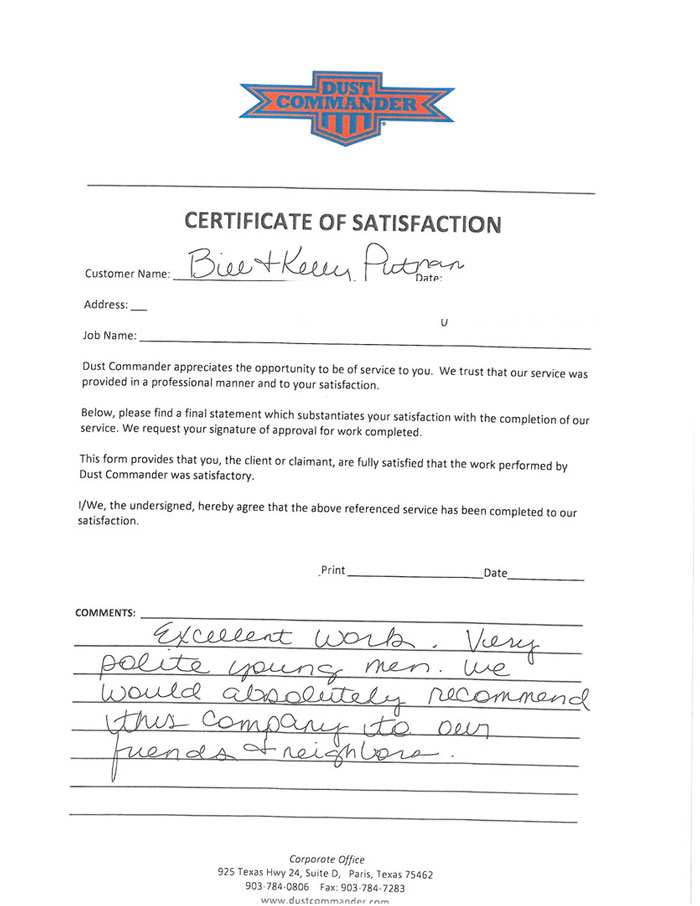 DustCommander Testimonial from Billie P. in Frisco, TX
Billie P. and Kelly P. from Frisco, TX conveyed thoughtful and appreciative words about the DustCommander experience.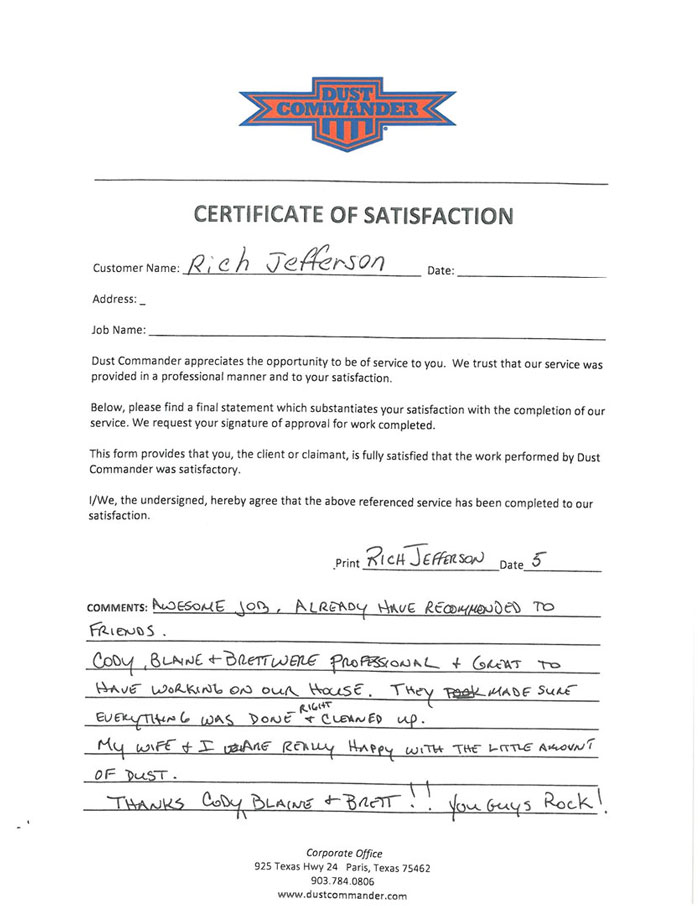 DustCommander Testimonial from Richie J. in Frisco, TX
Richie J. in Frisco, TX described his amazing DustCommander experience.
Estimate Request from Frisco, TX
Michael S. on October 2, 2017 3:43:23pm
Not a lead. Only 6 tiles.......
Erin R. on May 20, 2017 11:45:25am
Wanting a quote for Frisco. Has about 500 sq ft of tile. Looking to do it ASAP.