Pulse-Bac 1150 Commercial Vacuum Cleaner
Pulse-Bac model PB-1150 is a HEPA vacuum with a filter fractional efficiency rating of 98.0% @ .3 micron at a CFM flow rate up to 200. The 1150 model comes standard with Pulse-Bac® Technology, our Cyclonic Debris Management system, a 20 gal. powder coated steel tank, HEPA H-13 filters, and a 5 caster steel dolly with non-marking casters. An optional tank capacity sensor and three options for collecting debris are also available.
The 1150 is an industrial grade vacuum that can be used for vacuuming up fine powders like powder coat, limestone or dry bulky debris, or used to collect, capture and control dust and debris generated by manufacturing machinery and surface preparation equipment. Our revolutionary design in vacuum filtration automatically flushes the filters clear while you work, using only ambient air and vacuum. This patented technology stops the filters from facing with dust or debris and clogging during operation. Maintain peak performance with NO BLOWERS, SHAKERS, COMPRESSORS or BUTTONS to push. Just turn it on and go to work, Pulse-Bac® technology does the rest.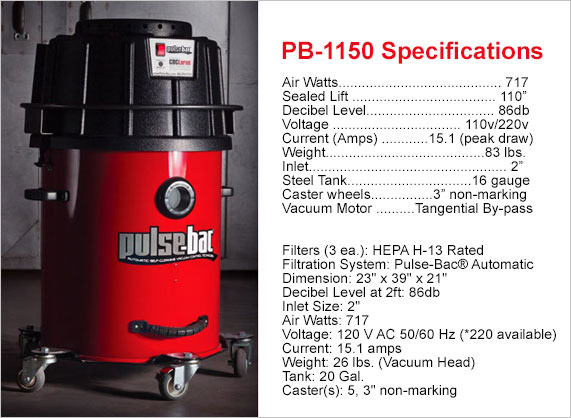 Special Features
Pulse-Bac® Automatic Self-Cleaning Vacuum Control Technology:
The PB-1150 dust vacuum is equipped with patented Pulse-Bac Technology, the most advanced filter filtration systemavailable, capable of preventing the filters from becoming faced with dust and debris and clogging during operation.This patented technology (US Patent # 7.082.640 B2) automatically flushes the filters clear of dust and debris duringoperation, using only ambient air and vacuum. No blowers, shakers, compressors or buttons to push.
Cyclonic Debris Management:
The PB-1150 tanks & extenders are equipped with an exclusive Cyclonic Debris Management system that reduces filterexposure to dust and debris. The CDM is located inside the tank at the air inlet and creates a cyclonic effect inside the tank,lowering dust and debris to the bottom of the tank and holding it there. The CDM system benefits the user by preventingdust and debris from constantly cycling up to the filters, thereby lowering overall filter replacement cost and pro-longing thelife of the filters.
Tank Capacity Sensor:
The PB-1150 optional tank capacity sensor warns the user via audible alarm and flashing LED on the control panel whenthe collection chamber has reached capacity and needs to be emptied. When the tank chamber reaches a pre-determinedamount of dust and debris the TCS system will warn the operator the tank is full. After being warned, the user has a setamount of time to turn off the vacuum and empty the debris inside the tank. If this is not done in the set amount of timeallowed the TCS system will automatically shut off the vacuum until the tank has been emptied. This action prevents the tankfrom becoming over filled. (Please note, users should always shut the vacuum power off before discarding dust and debris Inside the tank)
Twist on/off P.T.F.E. Spun Bond Polyester Filters:
The PB-1150 is equipped with advanced patented (US Patent # 8226739) twist on filters, manufactured out of a non-wovenSpun Bond Polyester material and coated with a P.T.F.E. (Teflon) coating, capable of capturing dust particles as small as .012micron. The easy to install twist on design makes installing and replacing filters quick and easy. The advanced filter mediapro-longs the life of the filters, thereby reducing filter replacement cost. (It is recommended filters be changed after every 4to 6 months of use)
Electronically Controlled:
The PB-1150 Pulse-Bac® Technology is automatically controlled by a an advanced electronic PC board that uses surfacemount technology with a conformal coating to protect it against moisture, dust and the elements. All PCB are tested for 48hours prior to being installed and are covered by a one year limited warranty.
Tangential By-Pass Motor:
The PB-1150 is outfitted with a tangential by-pass vacuum motor, offering special features like 1550H+ hours of life, 700peak air watts, high efficient cooling system, the "Green Power Label", UL recognized (category PRGY-E47185), single stagetapered fan, high efficiency lamination and a double bar bearing design.
Halo Guard:
The PB-1150 optional Halo Guard goes around the head of the vacuum unit, providing the user with an easy to grab-onhandle to move the vacuum, pull the head off when emptying the tank or for added protection for accidents.
One Year Limited Warranty:
The PB-1150 comes with a limited one year warranty.
Price: $3,095.00